March 2013
Having problems viewing this newsletter? Click here to view as a webpage.
In This Issue
---
Featured NoveList Content
---
When helping a patron who has read everything by a favorite author and is ready to move on, keep NoveList's Author Read-Alikes in mind. Each one includes a brief discussion of why people enjoy the author as well as a list of other authors who write like the author in question. Check out our Author Read-Alike for Cecelia Holland.
Featured Webinar
---
What Your Tech Wants You to Know
(Archived)
Discover what you can do to make communication easier and make problem resolutions happen faster. Learn how to approach troubleshooting like your tech does, and even some basic things you can do on your own. (You will be asked for basic information when accessing the archive.)
From the Desk of Duncan Smith:
Yours in Library Love
I hope you had a happy Valentine's Day. Mine was great. I spent it with around 600 colleagues who are all passionate about matchmaking between books and readers. The celebration I'm referring to was Library Journal's "Are Books Your Brand" webcast, held on Valentine's Day, 2013.
The webcast was moderated by Laurel Tarulli, well-known advocate for readers' advisory-centric cataloging and featured panelists Robin Nesbitt, Technical Services Director for the Columbus Metropolitan Library (OH) and blogger extraordinaire; Barry Troot, Digital Services, Williamsburg Regional Library (VA), editor of RUSA's journal, RUSQ, and head of the department that invented form-based readers' advisory; and yours truly.
The discussions were lively, informative, and entertaining, and while I don't have space to go into all the details, I've gathered some of the key points:
Readers' Advisory is more than putting books in people's hands; it is about building relationships with readers.
Passive readers' advisory (book displays, booklists, shelf arrangement) is very effective but no one likes the term "passive" -- the panel proposed changing this term to "self-directed" RA.
For libraries that want to increase circulation, Robin Nesbitt suggested that they set a goal. Putting a number on the desired results focuses efforts.
Form-based RA is a way to address the mismatch between a reader who is in love with a genre and a librarian who knows little about it.
Building on Barry's remark that "Story is what we have to offer," when working with reluctant readers, ask them to tell you about a movie, TV show, song, video game they enjoy. Then use this information to find books with a similar feel.
If you missed the webinar, don't worry! You can view the archived version at the Library Journal website.
Just to let you know, the title for this piece comes from the email signature of Veronda Pitchford, formerly of the Urban Libraries Council. I never asked her exactly what she means by Library Love -- but I sure felt it as a participant in this event.
by Susan Brown
When I'm not writing for RA News or working as the Marketing Director at
Lawrence Public Library
, I blog about practical marketing for public libraries at
www.658point8.com.
Any given week, I'll write about trendy things like
social media engagement
or scintillating topics like
how to write a better subject line for your email newsletter
. However, when I review my blog stats, it is not Facebook or Twitter or content marketing that readers are most interested in. Hands down, the most popular post ever on my blog -- one that readers find while perusing the archive or by googling for information on the topic -- is
"Ten Tips for Better Book Displays."
Each month Jessica Zellers adds a few items to your web-surfing itinerary. Take a look at these lists, articles, reviews, and the best of new RA materials and advice.
Normally, I am a tractable readers' advisor. I ignore my own prejudices and focus instead on the reading preferences of the other person. This is in keeping with the commonly acknowledged best practices; as Sarah Statz Cords observes, "If some is, say, a Jodi Picoult or Nicholas Sparks reader, it is probably nicest if the librarian doesn't say (although they might be dying to): 'So, you like hack authors, huh?'". Cords goes on to argue in favor of biased recommendations, though, and there is something appealing in her heresy. Sometimes you just want to be honest.
by Becky Spratford

You may have noticed that NoveList has a direct link from each title in its database to the matching Goodreads entry. This is a wonderful addition to your Readers' Advisory arsenal. With just one extra click, you can access a treasure trove of information, actual reader comments, and display ideas. NoveList provides a library professional's perspective while Goodreads is reader-driven. Together, the two provide a much deeper understanding of reading options that allows you to fine-tune your Readers' Advisory services.
Every month, we include a few of the titles that NoveList staff and contributors are reading. Have you read them? What did you think?
City of Thieves by David Benioff
ISBN: 9780670018703
Based on the memories of the author's grandfather, City of Thieves is an emotional rollercoaster. Lev Beniov was the only member of his family left in Leningrad during the Nazi siege that stretched from September 1941 until January 1944. For 872 horrifying days, the Nazis tried to destroy not merely the city but all of its inhabitants.
Lev describes how societal norms broke down even though the Russian authorities tried to keep a semblance of law and order. As food became a distant memory, many citizens cannibalized dead bodies to survive -- and breaking curfew was punishable by death. Lev was caught after curfew while stealing a knife from a Nazi corpse; a Russian colonel agreed to spared Lev's life if he could find a dozen eggs for the colonel's daughter's wedding cake. Lev and Kolya -- another prisoner facing execution -- had only five days to fulfill their mission.
Both action-paced and deeply contemplative, City of Thieves brings a first-person perspective to everyday human experiences on the Russian front. I thoroughly enjoyed City of Thieves and suggest it for anyone interested in World War II.

Recommended by Greg Tourian.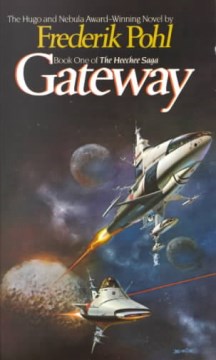 Gateway by Frederik Pohl
ISBN: 9780345346902

This book was recommended to me as "one of the most disturbing books." While I thought it was riveting, I would call it thought-provoking rather than disturbing. We meet Robinette "Bob" Broadhead, a profoundly depressed former food miner; during his computerized therapy session, we learn from a flashback that Bob won a lottery that allows him to buy a ticket to Gateway, a space station left by the alien Heechee race. The hundreds of abandoned spacecraft left there are preprogrammed to completely unknown destinations. By taking one, Bob might strike it unimaginably rich...or he could die a horrible death.

Since we know this is a flashback -- and Bob is filthy rich -- readers can only wonder: But at what cost? Why is he so troubled now? Bob's desperation, hopelessness, and guilt are claustrophobic. Although Bob was one of the most unlikable protagonists I've ever encountered, Pohl's fast-paced writing and adept storytelling kept me hooked until the end.



Recommended by Cathleen Keyser
by Shelley Mosley
Whether they were Renaissance portrait artists, 20th century photographers, or even modern day graffiti artists, women in the visual arts have faced overwhelming discrimination throughout history. They were discouraged from painting. They were forbidden to enter the arts guilds or arts academies. Their beautiful pieces of art were dismissed as "women's crafts" (needlework, textile arts, etc). Those rate women trained by their fathers or brothers often saw those same family members take credit for the women's paintings. Just like women authors had to publish under a man's name (i.e. Pearl S. Buck as John Sedges), women artists often signed their masterpieces with a masculine pseudonym.
by John Charles

Long before Occupy Wall Street put America's financial epicenter in the news, author Emma Lathen was using the foibles and follies of the country's business capital as a rich source of inspiration for a series of highly entertaining mysteries. From 1961 to 1997, Lathen, the pseudonym for May Jane Latsis and Martha Henissart, wrote 24 cleverly constructed detective stories featuring banker (and crack amateur sleuth) John Putnam Thatcher. By following the money in each of these books, Thatcher is not only able to restore order to the balance sheets at his bank but also help the police catch more than one calculating killer.
We Would Love to Hear from You!
All responses are welcome at RAEditor@ebscohost.com. Let us know what you think -- what you like as well as what else you would like to see.
You are receiving this newsletter because you have subscribed to NoveList RA News. Just let us know if you want to unsubscribe. We also encourage you to sign up for our other newsletters.

Editor: Krista Biggs
Marketing and Design: Danielle Borasky & Cassi Broach
NoveList, 3708 Mayfair Street, Suite 300, Durham, NC 27707, 1.800.653.2726.

We would love it if you share this email: