Editor's Desk: Helping Kids Who Don't Read
When I was a school librarian, I found it especially gratifying to work with children who loved to read; helping those students who were the first in the library to get the newest book by their favorite author or who read with ease every book on their favorite topic. As a parent of a child who has struggled with reading comprehension, I learned the hard way to be more sensitive to children who may not clamor to visit the library or who struggle with every reading assignment. While it can be frustrating or challenging to work with these vulnerable and resistant readers, they have the potential to be our greatest success stories.
Our goal this month at
NoveList School News
is to provide resources and role models for meeting the various challenges posed by reluctant readers. We begin by shining our
Spotlight
on different kinds of reluctant readers and discussing how
NoveList K-8
can provide "one-stop shopping" for helping these children.
Best Practices
features an interview with Marian Creamer, a retired school librarian from Portland, Oregon whose nonprofit foundation, Children's Literature Alive!, empowers low income children to read and express themselves through the use of distinguished children's literature. Additionally,
NoveList Strategies
demonstrates how
NoveList K-8
can help you use Lexile ratings - a scientific measure of how difficult a book is to read - to connect books with struggling young readers.
If you've been motivated to pick up a book after seeing the related film, then you know from experience that movies bring books and kids together, a fact substantiated by research.
Silver Screen
presents
City of Ember
, an upcoming October film that has been heralded as the most-anticipated movie of the year according to
movie-fanatic.com
. If you're ready to participate in the literacy debate about whether or not what kids and teens do online constitutes reading, then check out
In the News
.
Professional Resources
highlights two outstanding tools -
Guys Read
and
Gotcha for Guys!
-- for motivating boys to read. Since nonfiction is often the literary choice for males,
Awards
discusses the Robert F. Sibert Informational Book Medal. Finally,
In Case You're Wondering
leads newsletter subscribers to back issues that include articles related to reluctant readers.
Best,


Julie


Spotlight: Reluctant Readers
Who are reluctant readers? Perhaps they are children growing up in poverty who lack prerequisite skills and experiences, along with the necessary access to books. They are certain boys who don't want to pick up the novels so often assigned in school; they would rather hunker down with a magazine, graphic novel or an intriguing work of nonfiction. They might be both boys AND girls who - especially as they become tweens and teens - prefer computers, sports, socializing or other activities in their free time. Reading may seem like an insurmountable obstacle to youngsters who have learning problems like dyslexia or whose native language is not English. In this era of high-stakes testing where choice has often been eliminated, reluctant readers are students who see reading as a chore rather than a pleasure.
Whether you search by author, title, or subject,
NoveList K-8
is a database that can assist you in your work with this demanding and varied but rewarding group. There are many other possibilities for access -- on the Advanced Search page, you can choose among helpful limiters such as
Reading Level
,
Grade Level
,
Lexile Reading Level
, L
exile Range Search
,
Number of Pages
, and
Author's Cultural Identity
. Additionally, every search will reveal related editorial content:
BookTalks
,
Curricular Connections
,
Grab and Go Book Lists
,
Picture Book Extenders
,
Recommended Reads
, and
Series
. Even if your school library does not have direct access to
NoveList K-8
, many states provide online admission through local public and state libraries. An easy-to-obtain password may be the key to putting this helpful tool to work for you and your library patrons.
Best Practices: Children's Literature Alive!
Marian Creamer's goal for her foundation, Children's Literature Alive!, is to engage impoverished children with literature by providing books and experiences like author visits to nurture a love of reading. Marian and participating authors Laura McGee Kvasnosky and Susan Fletcher graciously took time to answer some questions about the foundation and its programs.
NL
:
How did you establish Children's Literature Alive!?

MC:
Some parents at my former school asked what I wanted as a retirement present. I told them about my idea for a nonprofit foundation to engage impoverished children with quality children's literature. They were enthusiastic and raised the start-up funds.
NL
:
Has the foundation provided any experiences that stand out to you?

MC:
The most powerful experience the foundation has had providing books and author visits were in Vernonia, a struggling timber community outside of Portland, Oregon. Floods ravaged Vernonia in December 2007; homes were lost, schools flooded, people drowned.
After the floodwaters receded, I talked with the elementary school principal in town about the importance of children writing their stories about the floods, not only for themselves but also for future generations. After time provided a little distance and the children began talking about what happened, Susan, Laura and I went into the school.
SF:
As a children's book author, I visit quite a few, mostly affluent schools. I was especially honored to be invited to work with the older elementary students in Vernonia because most of these kids had never met an author before. Some of them had never owned books. So there was, I think, an opportunity to make a greater impact.
MC
: The foundation provided new copies of Susan and Laura's books to the school library so that every child either read a book or had one read to them before the visit. Additionally, every child in the school got an autographed copy of one of Laura and Susan's books to take home.
NL:
What happened during your classroom visits?
LMK
: First I talked with the students in kindergarten through third grade about the connections between my life as the middle of five children and my books about the fox sisters, Zelda and Ivy. Then, I invited each student to illustrate and then write a short book that recounted one of his or her memorable life events. While some children wrote about flood experiences, the topics ranged from a mother's second marriage to a bad spill on a bicycle. The energy in the room surged as the students' shared their books and connected to one another through story.
NL
:
What kind of feedback did you receive about your visit?


MC
: The children seemed thrilled to have brand new books to keep. They were also clearly in awe of the authors. As we were leaving the school, one little girl came up to Laura and told her that she loved her. Afterwards, several teachers shared their surprise at how students who normally don't talk expressed themselves through writing.
NL
:
Is there anything particularly interesting on tap for the new school year?
MC
: I'm very excited about the visit of Latino author Francisco Jimenez to a high school in Portland that has 1900 students - but no library budget. The foundation will provide 400 books to the school including 100 Spanish-language copies of
The Circuit
, Francisco's memoir about his childhood experiences as a migrant farm worker.
Novelist Strategies: Using Lexiles with Struggling Readers
Mary is a middle school librarian in the southeastern United States. Although her school is in an affluent suburb, some of her students are the children of migrant farm workers. At the beginning of the school year, a resource teacher asked Mary for a recommendation for her struggling seventh-graders. Last year, the teacher used
The Outsiders
by S.E. Hinton to great fanfare. She would like a book around the same reading level that would garner an equally high level of enthusiasm. However, she doesn't want another book about gangs. While most of her students are boys, she also works with a few girls.
How can NoveList K-8 help Mary? Here's what she should do:
Next to

Find

in

Novelist K-8

, enter "the outsiders."
Hit

Go

at the top of the page.
Scroll down to the entry for "The Outsiders." The

Lexile

is 750. Click on the title.
Hit

Find Similar Books

in the middle of the page.
Next to

Lexile Reading Level,

select

650-850

.
Hit

Search

at the bottom of the page.
Mary scans the descriptions that accompany the titles in her search results. She clicks on those that sound the most relevant. Mary reads the accompanying reviews for these books; some even say the audience is "reluctant readers." Mary recommends five titles for her colleague's consideration:
Secret City U.S.A.
by Felice Holman,
Taking Sides
by Gary Soto,
Slam!
by Walter Dean Myers,
Escaping the Giant Wave
by Peg Kehret and
The Astonishing Adventures of Fanboy and Goth Girl
by Barry Lyga.
NOVELIST CONNECTIONS
: For more information about Lexiles, a useful tool for both teaching reading and reader's advisory, go to the
NoveList K-8
homepage and click on
Lexiles
.
Professional Resources: Boys Will Be Boys
Guys Read
http://www.guysread.com

This web-based literacy program is designed to help boys find books they want to read. While creator Jon Scieszka holds the lofty title of National Ambassador for Young People's Literature, his site couldn't be less pretentious, or more accessible. Boys can use quick links to find read-alikes by favorite author, title, and subject. They can also take a gander at the top lit picks of "Guys Read" voters. Scieszka wants librarians and teachers - most of whom are women - to let males "choose what they read" and "pick from all different kinds of reading." He also thinks more male reading role models would motivate boys to look at books.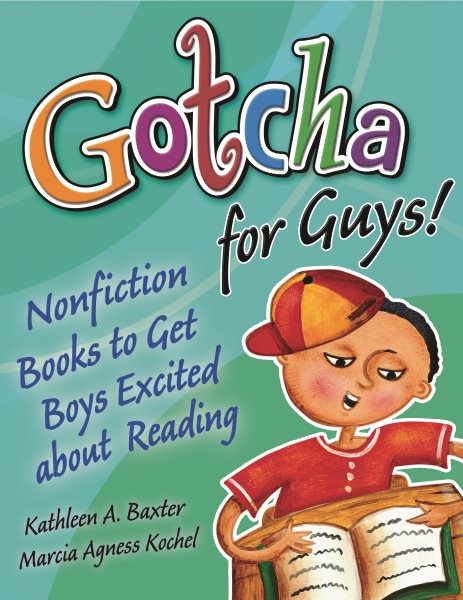 Gotcha for Guys! Nonfiction Books to Get Boys Excited About Reading by Kathleen A. Baxter and Marcia Agness Kochel
Publisher: Libraries Unlimited (2007)
ISBN-10: 159158311X

Guided by many of the same principles as Scieszka, Baxter - the longtime "Nonfiction Booktalker" in
School Library Journal
- covers such boy-friendly topics as animals, sports, magic, weapons, disasters, and all things gross. Almost every section includes BookTalks; annotated titles of informational books boys like, and long lists of positively-reviewed books with dude appeal. The latter is especially useful since it includes individual titles in fact-based series that have been evaluated and found worthy, making this guide helpful not only for programming, but for collection development.
Silver Screen: Who Turned Off the Lights?
City of Ember
by Jeanne DuPrau
Publisher: Doubleday (2004)
ISBN 10: 0385606877
ISBN 13: 978-0385606875
Du Prau's "steampunk" novel about a post-apocalyptic city without electrical power stars newcomer Harry Treadaway as pipe worker Doon Harrow and Saorise Ronan (the jealous sister from the movie
Atonement
) as messenger Lina Mayfleet. With rolling blackouts caused by a failing generator, dwindling food supplies, and a rioting populace, the young teens discover the lost directions that can lead them out of town. However, corrupt city officials led by treacherous Mayor Cole - played by complicated funny man Bill Murray - are standing in their way. In a recent interview, Director Gil Kenan - nominated for an Academy Award for the animated feature
Monster House
- talks about the "City" as one of the film's major characters.
(http://video.about.com/movies/Gil-Kenan-City-of-Ember.htm)
NOVELIST CONNECTIONS:
Novelist K-8 is awash with resources for using City of Ember with upper elementary and middle school students. On the homepage, enter "City of Ember" in the Find box, then hit Go. Located within the tabs near the top of the page, BookTalks, Grab and Go Book Lists, Curricular Connections, and Recommended Reads house many articles and bibliographies highlighting City of Ember, as well as related science fiction, fantasy, and dystopian/utopian titles.

In the News: What is Reading?
Literacy Debate: Online R U Really Reading? - Motoko Rich
July 28, 2008. New York Times.
http://www.nytimes.com/2008/07/27/books/27reading.html
This widely-distributed article may be the most up-to-date primer on the debate over the definition of reading in the digital age. On the side of print, studies demonstrate that the stagnation and decline in teenage reading parallels an increase in Internet use. In the electronic reading corner, research shows that the reading scores of low-income children increase with access to computers. In this literacy competition, it's words versus sounds and images; the author's authority as opposed to the interaction between readers and writers; linear concentration competing against short bursts of information; and the depth of the book lined up against the breadth of information obtained by clicking on multiple web sites. Two teenagers who don't like to read books but engage electronically with text - including fan fiction sites where readers become writers- are showcased.
The Robert F. Sibert Medal
In 2001, the first Robert F. Sibert Informational Book Medal was awarded by the Association for Library Service to Children (ALSC) to "the most distinguished informational book for children." Although the Sibert is often referred to as "the nonfiction award," it defines an informational book "as written and illustrated to present, organize, and interpret documentable, factual material." In addition to informational books, biographies are eligible for the medal, but poetry, drama and folk literature are ineligible.
In its first five years, the medal went to an author who was either a United States citizen or resident. Since 2006 and in light of the importance visual materials play in contemporary factual books, the medal can also be given to an American illustrator.
The Sibert defines children as ranging in age from "birth to fourteen." In its first five years, more books written for the upper age range were honored. Jack Gantos' frank and mesmerizing memoir about his experiences as a teenage drug smuggler and prison inmate,
Hole in My Life
, is a prime example of a sophisticated title that was lauded.
Recently the award has highlighted less-provocative fare that displays in equal measure "excellent, engaging, and distinctive use of language," "distinctive visual presentation," and "clear, accurate, and stimulating presentation of facts, concepts and ideas." A case in point is Catherine Thimmesh's visually arresting, engagingly written and meticulously-researched 2007 winner:
Team Moon: How 400, 000 People Landed Apollo 11 on the Moon
.
As 2008 Sibert chair Carolyn Parr notes, "So many kids prefer nonfiction - call it 'the appeal of the real' - that it's really important to recognize the best in informational books for young people." The Sibert Medal has done just this, by increasing the visibility of lively, intelligent and thought-provoking nonfiction that satisfies children's curiosity.
NOVELIST CONNECTION
: In Spring 2008,
NoveList K-8 Plus
was launched with 20,000 nonfiction titles added to a database that already had substantial fiction holdings, as well as thousands of poetry, folklore and biography titles. With the goal of increasing support for the school curriculum as well as recreational reading,
NoveList K-8 Plus
has added nonfiction
Grab and Go Book Lists
,
BookTalks
and
Recommended Reads
lists for Younger Kids, Older Kids, and Teens.
In Case You're Wondering: Locating Back Issues
Want to share information with your principal about the IMLS collaborative summer reading project? Can't quite remember why picture books are eligible for the Geisel Award for beginning readers? In order to access past issues of
NoveList School News
that discuss these topics, go to the NoveList Portal:
http://www.ebscohost.com/novelist
. Choose
NoveList Newsletters
, then point your browser to
Click here to view the archive of past newsletters
. Scroll down to
NoveList School News
for links to previous issues.
Coming in October: Graphic Novels